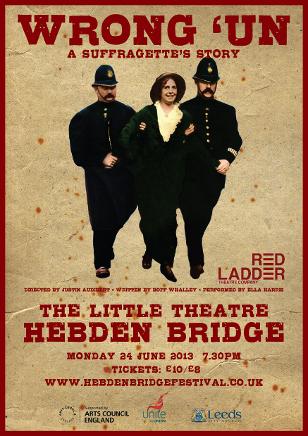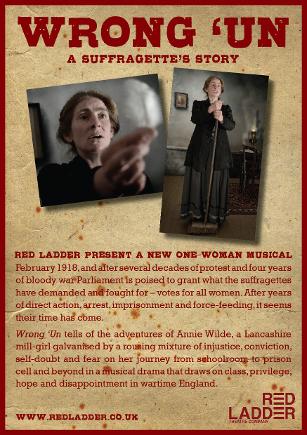 WRONG 'UN SHOWS
Shows continue sporadically through 2014 – Dates, a preview and information are listed at the Red Ladder site.
Wrong 'Un is now up and running. A one-woman musical, featuring Ella Harris in the acting role and Justin Audibert as Director. Essentially the play is the story of Annie Wilde, a Lancashire suffragette, with songs and jokes peppering Annie's story-telling.
Ella is brilliant. She lives and breathes the narrative, turning it from a script into something both intimate and powerful. She's an amazing actor. Justin's been brilliant, too - all through the rehearsal process he was picking apart the lines, chopping things around, choreographing the story. I'm still a little in awe of the theatrical process – especially in how much of it is collaborative.
The idea with the play was that it wouldn't go off on tour and then disappear but could be performed as and when it gets booked into venues. As long as Ella's available, it can be performed. Not just in theatres, either - the first Big Bookend performance took place in a large upstairs room of Leeds Central Library, polished wooden floors and the walls lined with books.
Hopefully Wrong 'Un could be just as much at home in an upstairs room in a pub as it would be in a theatre.
PROMO FOR WRONG 'UN
Wrong 'Un: A Suffragette's Story
February 1918, and after several decades of protest and four years of bloody war Parliament is poised to grant what the suffragettes have demanded and fought for – votes for all women. After years of direct action, arrest, imprisonment and force-feeding, it seems their time has come.
Wrong 'Un tells of the adventures of Annie Wilde, a Lancashire mill-girl galvanised by a rousing mixture of injustice, conviction, self-doubt and fear on her journey from schoolroom to prison cell and beyond in a musical drama that draws on class, privilege, hope and disappointment in wartime England.
WRONG 'UN REVIEWS
Susan Darlington, Morning Star
TIMED to coincide with the 100th anniversary
of the death of Emily Davison, who was
trampled by King George V's horse at the
Epsom Derby, Wrong 'Un was inspired by
the discovery of a suitcase full of suffragette
memorabilia.
More than a dusty piece of history, this
one-woman musical play is an engaging
exploration of the movement through personal,
social and regional anecdotes in a
script by former Chumbawamba member
Boff Whalley that reunites her with the Red
Ladder theatre company.
It opens with a statement of intent as Lancashire
mill worker Annie Wilde — played by
Ella Harris in the spirit of Victoria Wood —
proudly sings of being a "wrong 'un" who has
found her "vocation in defenestration" as
women take direct action in their fight for the
vote.
Part music hall, part traditional folk, the
musical interludes effectively drive forward
the narrative while also engaging directly with
the audience who are invited to sing along.
It's an effective way of creating intimacy
and Harris employs a similar technique as
she works through a range of characters during
Wilde's journey from school room to prison
cell.
Shifting her voice and body language as
she plays teacher and mill owner, she induces
uncomfortable audience laughter as she makes
direct eye contact and draws them into the
narrative.
It's a humour that's further exploited in
Whalley's script, which is peppered with pithy
one-liners. This heightens the sense of drama
and emotional impact as the tone shifts, notably
when Wilde viscerally describes being
force-fed cabbage water in Holloway prison
or details the expected life expectancy of
frontline messengers during WWI.
With its persuasive combination of fact
and personal anecdote, this one-acter
directed by Justin Audibert makes social
history relevant and would be a brilliant
teaching aid for schools.
But as a story in drama and song of class,
torture and war in Edwardian England it's
also a galvanising reminder of the power of
protest.
"Don't come to meetings without sticks in future, men and women alike. It is worth while really striking. It is no use pretending. We have got to fight." (Sylvia Pankhurst)