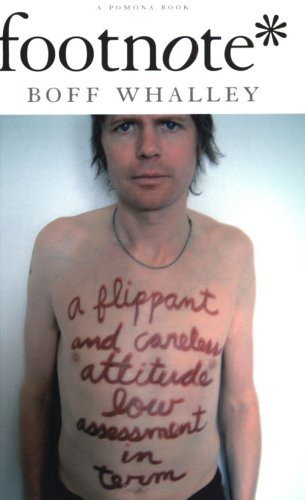 Pomona's press release for the book:
Footnote* is clever, funny and irreverent—a story about a boy from the redbrick clichés of smalltown England reconciling Mormonism and punk rock, industrial courtesy and political insurrection.
He finds a guitar, anarchism and art terrorism and, after years (and years and years) of earnest, determined, honest-to-goodness slogging, his pop group† makes it big; that's BIG with a megaphone actually. They write a song that has the whole world singing and, funnily enough, it's an admirable summary of a life well lived—about getting knocked down and getting back up again.
Meanwhile, there's a whole world still happening: authentic lives carefully drawn, emotional but not sentimental and always with a writer's eye for detail. Footnote is not another plodding rock memoir but a compassionate, critical and sometimes cynical account of a life steeped in pop culture, lower division football and putting the world to rights.
* See page 293.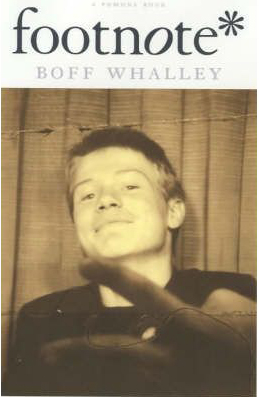 Here (left) is the original (unused) front cover of the book - me as a cheeky 17-year-old in a Burnley photobooth. Writing the book was a balancing act between trying to write a history of the band but wanting to make it personal. It came about because, after 'Tubthumping', we had a couple of people writing to the band to suggest that they write Chumbawamba's biography. We had discussions about it in our regular meetings and decided that if anyone was going to write a book about the band, it needed to be one of us.
Alice and Danbert, Chumbawamba's regular writers apart from me, didn't jump at the chance, so I did. I was determined not to make it a chronological history of a bunch of people playing music: I wanted to write a book about northern working-class culture and politics, too.
And here, a belated thanks to Mark Hodkinson at Pomona, who had the belief, the faith and the heart to make Footnote happen.
Footnote is now sold out of its print run – but there are copies available via the Chumbawamba website.
There are two rules I've always tried to live by: turn left, if you're supposed to turn right; go through any door that you're not supposed to enter. It's the only way to fight your way through to any kind of authentic feeling in a world beset by fakery. (Malcolm Mclaren)