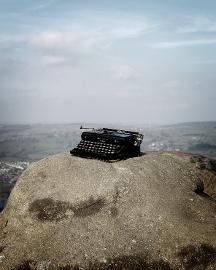 THE IDLER
Issue 45: Utopia
Idler 45 is a sumptuously produced collection of essays loosely themed around the idea of utopia. It includes republished excerpts from Thomas More's Utopia and William Morris's News From Nowhere as well as essays by Bill Drummond, Penny Rimbaud and Ian Bone. More to the point (it being in this list of contributions) it contains an extensive written and photographic essay on a year living in the Utopian community of Arden, Delaware, USA by Boff Whalley and Casey Orr.
Issue 44: Back To The Land
An essay on the preservation of a historic (and historically-neglected) triangle of land in Armley, Leeds.
Both are available from The Idler.
THE TROUBLE WITH MUSIC
Mat Callahan
Foreword for Mat's angry and thoughtful book on music and music-making.
Available from AK Press.
CELEBRATE PEOPLE'S HISTORY The Poster Book of Resistance & Revolution
Ed: Josh MacPhee, Foreword: Rebecca Solnit
A poster designed with Miriam Klein Stahl, a Berkeley-based lino-cutting genius.
Available from The Feminist Press, New York.
TRAIL & MOUNTAIN RUNNING
Sarah Rowell & Wendy Dodds
Foreword for a How-To book on all aspects of wild running.
Available from Crowood Books.
THE BEST OF THE FELLS
Compiled by Peter Hooper
A short piece in a compilation of writing about fell running.
Available from the author.
"Outside of a dog, a book is a man's best friend. Inside of a dog it's too dark to read."
(Groucho Marx)