TEA-BREAK OVER, BACK ON YOUR HEADS: NEWS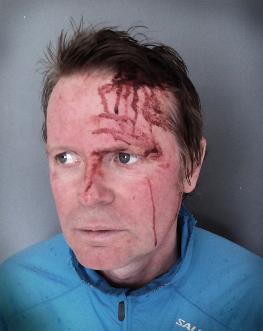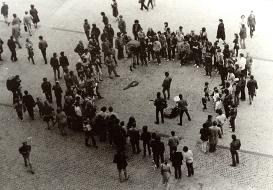 I'm currently wrestling with all sorts of ideas and projects. Here they are, in a list:
1. I'm hopefully finishing mixing and mastering the Commoners Choir album in the next couple of weeks with Neil Ferguson. Then I'll crack on with the sleeve typesetting etc and deliver it to No Masters (our benevolent bosses) for the beginning of June. This will ensure a September 1st release, to be accompanied by a launch event.
2. We're deep in rehearsals for a show made in the Seacroft estate in East Leeds, with Jane Morland and Space2. Basically it's a huge musical show about the area, performed by the people in the area (almost all of whom have never acted or sung on stage before) and written by me from stories told by all those people over the past year. It's called 'Oh I Do Like To Be Beside The Seacroft' and it'll be performed at West Yorkshire Playhouse on July 15th.
3. I'm spending a month in Hull making a project called 'Our Street, Our Song' – a lovely street called Newland Avenue is hosting a big theatrical event on June 3rd, part of which will be a scratch choir made up of residents singing some songs about their street and its history (a bit like the Seacroft project, but with just singing. Sort of). It's going to be a glorious event, and the folk over there are just great.
4. I'm writing a song for schoolchildren to sing in celebration of the history of a local fire station in East Leeds. It's just a bit too complicated to explain right now.
5. I've learned to play The Beatles' 'Blackbird' on guitar, at last.
6. I'm still going to write a book, when I have time. I think it's going to be a sort of anti-self-help book. With a swearword in the title, because they seem to sell well nowadays.
7. I'm going to work with Harmony Choir in Leeds – a great choir made up mainly of asylum seekers and refugees who've wound up in Leeds – to write a song telling their stories.
9. I'll be walking and playing with John Jones' Ramblers in September, up in the Lake District. Up and down mountains all day, singing and strumming all night. Can't wait.
GET OFF YOUR ARSE (PT 2)
Commoners Choir have been busy. 2016 was a year of strange events, festivals, lots of new songs and plenty of plans for the future. We went from walking and singing up on Ilkley Moor to sailing along the canal to Castleford, commemorating food riots in Ely, belting out a song on top of the Hebden Bridge moors and singing about homelessness and housing at various places.
There are accounts of several of these events, along with film and a few pictures, on the Commoners Choir website.
We also made an animated videos for our songs 'Mechanical Movable Type', 'Three Boats' and 'Boris Johnson' which are all up on the Commoners Choir website.
WE'RE NOT GOING BACK
'We're Not Going Back' had its final run in February, playing in Sheffield, London and finally a few days at Leeds City Varieties. It ended beautifully, and may yet re-surface.
See this review from What's On Stage. The play's had big and enthusiastic audiences, standing ovations and the like. All power to the girls who took it around the country in a big white van, and who will no doubt (along with everyone who worked on it) miss being part of such a clever, funny, committed bunch of people. They're alright, Red Ladder, y'know.
WHAT'S THA KNOW, OWT OR NOWT?
The 'Protest Walks' idea (writing a book based on a selection of walks around Britain on the sites of f
amous and infamous radical acts of rebellion, sedition and protest – see 'The Next Book' below) is currently stalled, waiting for a publisher to decide it's worth publishing.
But there's another book planned on the revolutionary potential of singing. The search for authenticity in a post-Situationist world, and how singing is part of that search.
WRONG 'UN
'Wrong 'Un' is still being performed around the country – more dates and added reviews here. It's been well over a year now since the play hit the ground running and in that time it's grown and developed, almost entirely down to how Ella has taken on the role of Annie.



MUSIC
I'm fascinated by the idea of Pantheism and decided that as a philosophy, all it was lacking was a signature tune. One that you can whistle while you trek across mountains and through forests.
Here's the result. For more on John Jones and the Reluctant Ramblers - of which I'm a part (see blog) – go to JJ's page.
A song I wrote in collaboration with O'Hooley & Tidow for their new album 'Hum' is now released and available, the album picking up brilliant reviews all over the place. More on the Music page.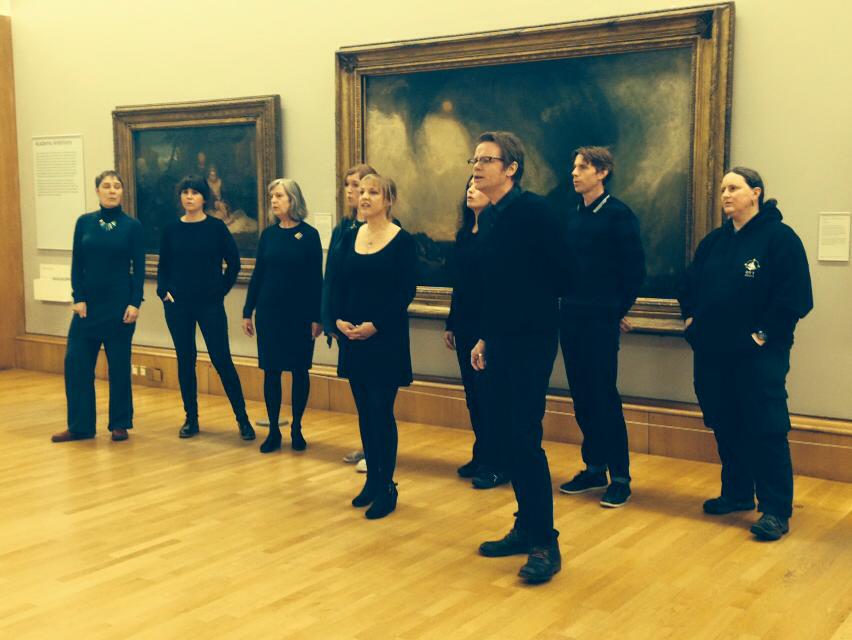 TURNER AT THE TATE
Over on the Music page there's a new recording – it's the hastily-assembled choir brought together to rehearse and perform a song I wrote about the artist JMW Turner and about us as polite voyeurs of his madness. Have a listen.
"

The individual interests me more than what he makes; because I've noticed that most artists only repeat themselves.

" (Marcel Duchamp)