TEA-BREAK OVER, BACK ON YOUR HEADS: NEWS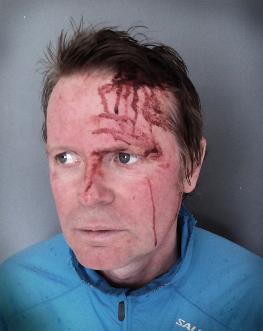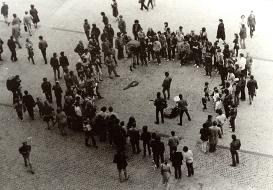 A new blog:
It's called
ACTIVISM
(I DON'T LIKE THAT WORD)
It's on the blog page.
And there are things con the horizon (see below).
A few things coming up. Me me me things. Firstly, this coming Sunday (26th February) I'm playing a guest slot as part of the 'Shake The Chains' tour – a bunch of brilliant musicians (Nancy Kerr, Findlay Napier
etc) singing protest songs, sort of like the Anti-Capitalist Roadshow. That's at the Guildhall Theatre in Derby.
Then on the following Friday (3rd March) I'm at the fantastic Bolton Socialist Club doing a sort of Desert Island Discs thing. From West Side Story via the Pistols and Swan Arcade to Beans on Toast. That may not make much sense to you. I don't know if I'm singing and playing anything there or just talking and telling jokes.
And finally on the Saturday (the day after, March 4th) I'm singing with Commoners Choir at the 'With Banners Held High' Festival at the Unity Hall in Wakefield, where I'll also be on a discussion panel with Alice Nutter
talking about music during the miners' strike. Oh the tales I can tell (etc). The Festival is a day-long celebration of unionism, activism, camaraderie, solidarity, poetry, music, rabble-rousing, lovely banners and beer. A grand day out.
There you go. Adverts over, back to Antiques Roadshow.
LIST YOUR TOP TEN ALBUMS – Firebricks and Flares in Rainy Colchester
A new blog for January 2017 – a day in darkest Essex wrestling with art, politics and being a teenager. This year I've made a resolution to write a book, and here's where it starts; not that this is an opening chapter or anything, just the first burst of working out what the book's going to be. Art and protest, its history, what artists (painters, writers, poets, playwrights, musicians, etc) are doing right now in the name of community, protest, opposition and yelling at the top of their lungs.
WE'RE HERE / UTOPIA PROJECT
A big part of last year was spent travelling around the country putting together a 65-strong scratch choir to perform a specially-written piece of music at Somerset House in London. Together with Dan Bye, Sarah Punsho, Rachel Thomas and Professor David Green, we put together a choral response to living in a city in today's Britain. I'll post a video of the event shortly.
GET OFF YOUR ARSE (PT 2)
Commoners Choir have been busy. It's been a year of strange events, festivals, lots of new songs and plenty of plans for the future. We went from walking and singing up on Ilkley Moor to sailing along the canal to Castleford, commemorating food riots in Ely, belting out a song on top of the Hebden Bridge moors and singing about homelessness and housing at various places.
Next up is a tour of Libraries around the north of England in April 2017.
There are accounts of several of these events, along with film and a few pictures, on the Commoners Choir website.
We also made an animated videos for our songs 'Mechanical Movable Type', 'Three Boats' and 'Boris Johnson' which are all up on the Commoners Choir website.
WE'RE NOT GOING BACK
'We're Not Going Back' had its final run in February, playing in Sheffield, London and finally a few days at Leeds City Varieties. It ended beautifully, and may yet re-surface.
See this review from What's On Stage. The play's had big and enthusiastic audiences, standing ovations and the like. All power to the girls who took it around the country in a big white van, and who will no doubt (along with everyone who worked on it) miss being part of such a clever, funny, committed bunch of people. They're alright, Red Ladder, y'know.
WHAT'S THA KNOW, OWT OR NOWT?
The 'Protest Walks' idea (writing a book based on a selection of walks around Britain on the sites of f
amous and infamous radical acts of rebellion, sedition and protest – see 'The Next Book' below) is currently stalled, waiting for a publisher to decide it's worth publishing.
But there's another book planned on the revolutionary potential of singing. The search for authenticity in a post-Situationist world, and how singing is part of that search.
WRONG 'UN
'Wrong 'Un' is still being performed around the country – more dates and added reviews here. It's been well over a year now since the play hit the ground running and in that time it's grown and developed, almost entirely down to how Ella has taken on the role of Annie.



MUSIC
I'm fascinated by the idea of Pantheism and decided that as a philosophy, all it was lacking was a signature tune. One that you can whistle while you trek across mountains and through forests.
Here's the result. For more on John Jones and the Reluctant Ramblers - of which I'm a part (see blog) – go to JJ's page.
A song I wrote in collaboration with O'Hooley & Tidow for their new album 'Hum' is now released and available, the album picking up brilliant reviews all over the place. More on the Music page.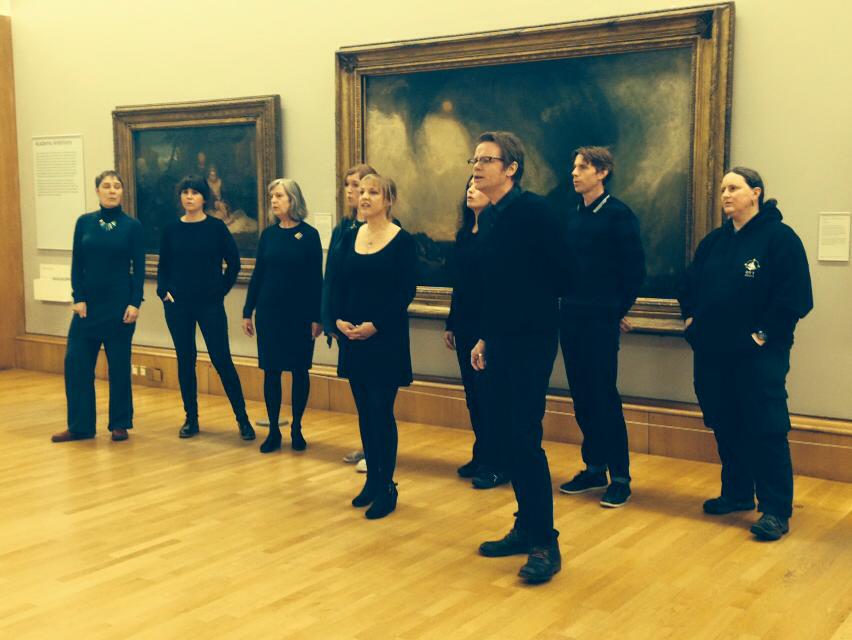 TURNER AT THE TATE
Over on the Music page there's a new recording – it's the hastily-assembled choir brought together to rehearse and perform a song I wrote about the artist JMW Turner and about us as polite voyeurs of his madness. Have a listen.
"

The individual interests me more than what he makes; because I've noticed that most artists only repeat themselves.

" (Marcel Duchamp)